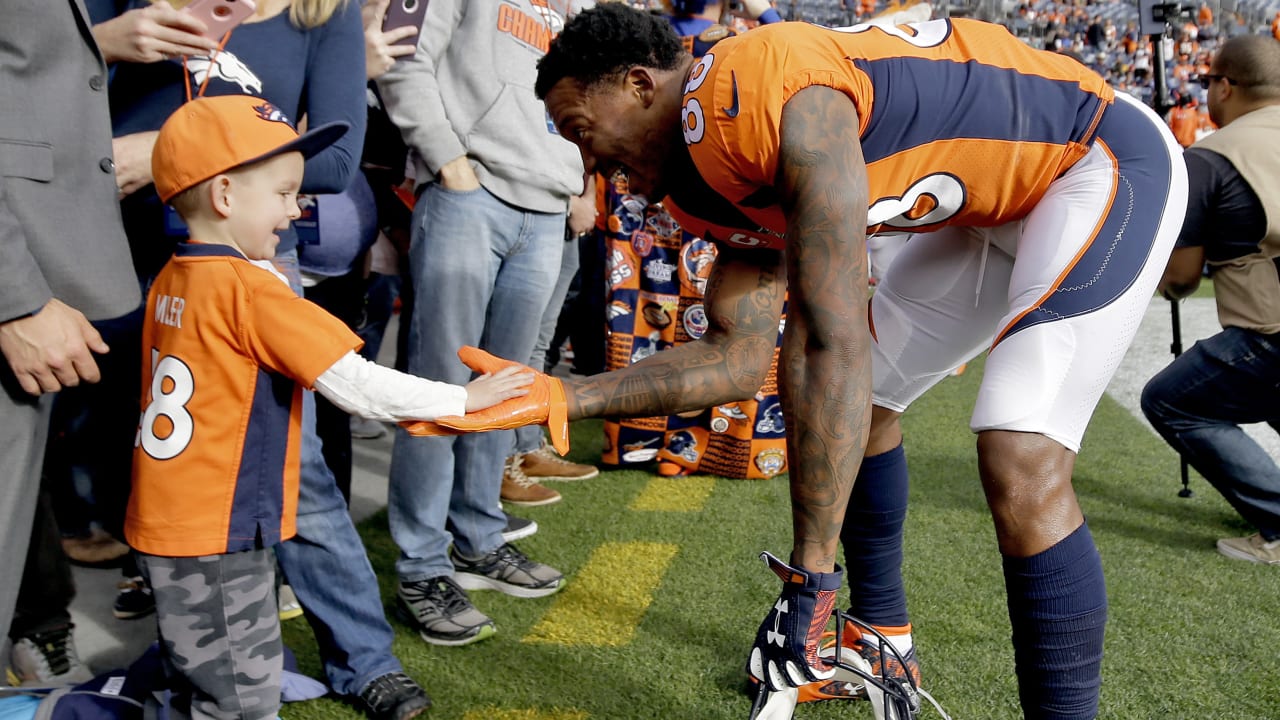 Demaryius Thomas had a unique talent on the soccer field – and truly special in life
We first met in Atlanta in the summer of 2012. Thomas had just completed his second season in the NFL and was back in his home state volunteering at a youth football camp hosted by the Chiefs Safety Eric Berry and Texans cornerback Kareem Jackson. And there he was, cutting him off with a bunch of kids – a spectacle that didn't make much sense to me at the time, but one that I've witnessed on countless occasions in the community in the years since. followed. I was a young reporter for Comcast Sports Southeast and was nervous about interviewing all these NFL stars. Demaryius erased that feeling. We actually threw the ball before we did the interview because he said we weren't in a rush. I remember him joking that he was "curious" to play with Manning, who Denver had signed to a successful contract a few months before.
"I've never really played with a real quarterback before," said Thomas in that Georgian cadence that was unique to him.
He wasn't lying. Thomas had played his varsity ball at Georgia Tech, a school known for hosting the Triple Option under head coach Paul Johnson. And his first two years in the NFL were spent mostly catching balls from Tim Tebow. Demaryius smiled and said he felt he would have a pretty "decent" year. I would say so. Thomas won the first of his four nods in the Pro Bowl in 2012, capturing 94 passes for 1,434 yards and 10 touchdowns. It was the start of a five-year streak of domination in which the wide offered its rare size and speed, averaging 98 catches, 1,374 yards and nine touchdowns per season. It was a time I watched from afar, living in Atlanta and Houston. In 2015, I joined the NFL network and returned to a former playground in Denver. My rookie season for the Network was spent almost entirely on the road in Dove Valley, covering the Broncos' magical Super Bowl run.
That first season as a national reporter, I felt like I was back on a beat, spending almost every day with the Broncos. Chronicle of Manning's foot injury, contextualizing one of the best defenses in recent memory. This was back in the days of coverage of player charity events – or really, any public appearance – with the aim of establishing new relationships. And it was on those Tuesdays, the players' usual day off, that the TD I met in 2012 presented himself again. Play and laugh with the children. Often with those who grew up in difficult circumstances, just like him. These are the times you saw it light up the most. Typically, as a reporter in these cases, you pull out your phone, record the interaction, and post it on Twitter. But with Thomas, I often forgot to put my hand in my pocket. I was too captivated. Instead of capturing the moment, I was captivated by it.
At 6-foot-3 and 225 pounds, Demaryius was a beast to the receiver. But he had a child's love for play – and life in general. It was funny to see such a beacon of joy physically imposing his will on other adult men. And if you knew his past, it was impossible not to love him. Thomas' mother and grandmother were jailed when he was just 11, making him instantly become a parent figure to his younger siblings. It helps explain why you've always heard from teammates about how good he is with their kids. Demaryius would tell me how much he cared for Manning's children and how he still spent so much time with them, even after Manning retired. He regularly spent time in airplane and bus travel spending time with his teammates' children. It made perfect sense, in a way, because Thomas was deprived of his own childhood. And maybe that's why he had such jubilation as an adult. It was almost as if he was living the childhood he never had, making up for lost time. Steal a cart around the training ground and drive it through training camp, posing for photos as it walks past. Do the things we all had the chance to do when we were young.
On the playing field, however, he certainly ran his business. Former Broncos cornerback Chris Harris Jr. always told me Thomas would become the Broncos' best receiver of all time. With 9,055 receiving yards and 60 touchdowns, he ranks second in franchise history in both categories, behind Rod Smith. Harris looks like he'll be in Denver Ring of Fame one day. Demaryius never told me anything about it, but I think this honor would have meant a lot to him.