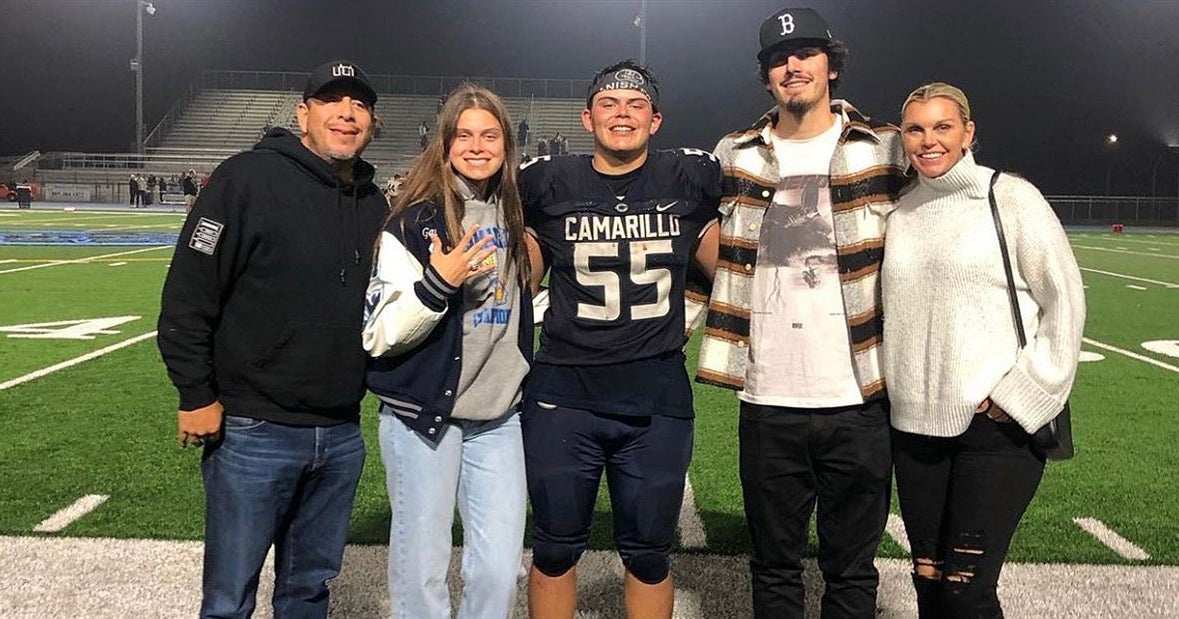 DL Marcos Jaquez is making a name for himself on the football pitch
Late last month, UCLA signer Gabriela Jaquez was named co-MVP of the McDonalds All-American Game.
Earlier this week, the UCLA forward jaime jaquez announced his return to UCLA.
Meanwhile, the Camarillo (California) defensive lineman Marcos Jaquez watched the two with pride.
And with some confidence.
"If Jaime and I lined up in the backyard doing an Oklahoma drill, I would win 100 times out of 100," said Jack.
The youngest of the family, Marcos has made his impact felt the most on the football pitch.
And while he's eager to land his first footballing offer, make no mistake, he knows his future is on the grill rather than hardwood.
"I loved the hoops and still do, but it's just not physical enough for me," said Jack. "What I've always liked about football is the physical part. I've played football and basketball and although both are physical, I feel like the rules of football fit better with my personality."
Jaquez is the biggest fan of his sister, who just finished her career at Camarillo and will start at UCLA in the fall, and of his brother, who announced he will play one final season at Westwood largely to get the opportunity to be at school with his sister for the last time.
Could the youngest Jaquez will be the third member of the family to go to UCLA?
He would love to have the opportunity to play at UCLA, but at this point he just hopes to have the opportunity to play anywhere.
Jaquez will travel to UCLA at the end of the month for an unofficial visit, where he plans to meet the coaches, tour the facilities and see the school from a football perspective.
He has started to emerge as a prospect in Ventura County and could move multiple schools through the spring judging period.
And while his older siblings have excelled in basketball, he's ready for his path to football.
He even credits Jaime for bringing out his toughness at a young age.
"We were playing basketball at the park and he was beating me, but I was playing with his friends, older guys, and I had to play bigger," Jaquez said. "I felt, however, as if I had known since I was younger, that football would be my sport. I played running back, linebacker, offensive line, center, linebacker, I was kicker and kicker too. I always thought football was my thing. My brother tried to get into it when he was younger and he got injured so he stayed in basketball, but everyone knew I was a footballer."
Even a few ribs from Jaime got him doubled on the football.
"My brother used to make fun of me, 'how is football your favorite sport, we're a basketball family', and he was giving it to me making jokes but now he's not making jokes about it" , Jaquez said.
His dad said when the two line up, Marcos will take over in the Oklahoma drill.
"They've lined up in the backyard a few times and Marcos is holding up," Jaime Jaquez Sr said.
It's because of his natural strength.
"I'm not going to lie, I'm probably the best athlete in the family," Marcos said. "I'm stronger than all of them. I jump really high and play three sports."
His father said the confidence came from being the youngest.
"Marcos does not lack confidence," said Jaime Sr.
Jaquez said seeing the success of his older siblings has also motivated him.
"Knowing how successful they have been in their sports, that really motivated me to work hard," Jaquez said. "It motivates me to improve myself more and more and gain respect. Having my siblings involved in my life also makes me love the game more."
Jaquez heard from coaches at UCLA as well as schools like Army, UC Davis, Weber State, Fresno State and Valparaiso.
He has a busy schedule of camps planned for the summer.
"I will be at ESPN Underclassmen Camp in Oakland, Fresno State, UCLA, USC, San Diego State and Sacramento State," said Jack.
Would an offer from UCLA put an end to his recruitment?
"Honestly, aany school I could play at would be fine with me," said Jack. "But I could see myself going to UCLA and I think it would be a cool sibling thing and a cool story."
The 6-foot-2, 240-pounder said he was focusing on the defensive line. Although he is not yet Jaime's height, he hopes to grow a few inches taller.
"Anyway, I think I'll play on the defensive line in college," Jaquez said. "It's always been the position I've seen myself playing. It's fun, hitting people, getting hit, no matter what, you always do something violent on the pitch. I like to get out of there. outside but I think it's also fun to play inside. I'm training, getting more athletic and improving."
This year, he'll add a little more offensive lineplay to his arsenal.
"I'll be our main guard shooter, and it's fun, just shoot and come and blast somebody," Jaquez said.
With his brother having a potential professional basketball career a year away, their Oklahoma drill days are over, but the youngest in the family isn't done trying to win him over.
"Let's line it up one more time," said Jack.