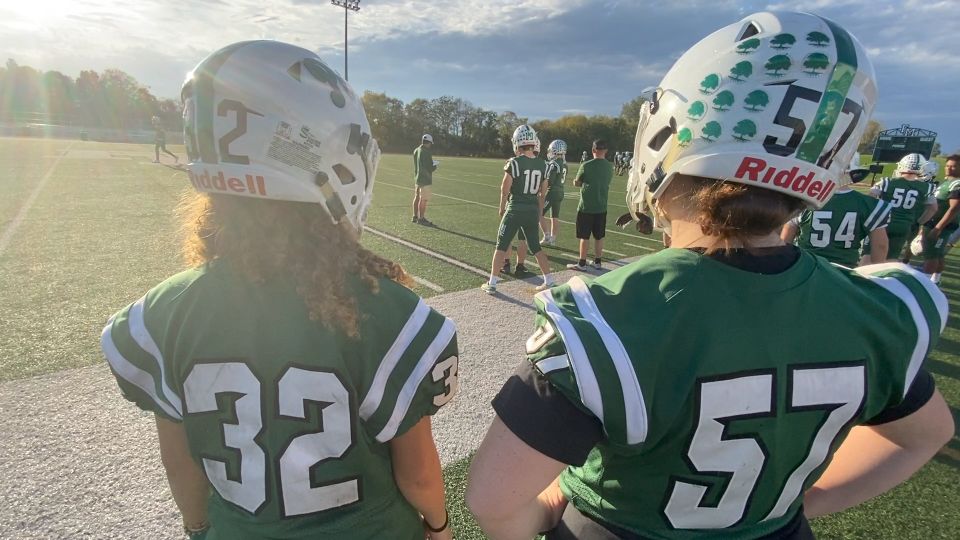 FM girls have unprecedented success on the football field
The last Friday night lights of the regular season are upon us. What you might not know is the impact some of these players will have long after the final whistle.
Thursday meant walkthroughs for the Fayetteville-Manlius High School Hornets, non-contact practice before the final game of the regular season, which was a bit of a disappointment for juniors Julia Leary and Mara McBride.
The pair primarily play the defensive back and running back or offensive and defensive lines, respectively, rare breeds in an era when young women were pioneering.
Sarah Fuller kicked off and scored a PAT for Vanderbilt in the SEC to become the first woman to score in the big conference. More recently, two King's College monarchs, Delaney Hilferty and Alyssa Accordino, successfully doubled PATs in record fashion between positions.
But for these ladies, it's more about the impact on the grill.
"I think I prefer the hitting side of a ball a lot more, because you just did something that I did to get into the team at the start," Leary said. "I respect the hell of these girls for doing that too."
"It's just the gratification you feel after that. Like you just shoot someone down, you're like 'I did that'. It's so amazing," McBride added.
It's a respectful game when it comes to pioneering women playing football at all levels.
"It's really nice to see other women doing it, like women are more than able to do it, and I think it's a really good way to show the strength of women in general," said McBride.
Julia and Mara play specialist positions for different storylines, but the impact games for a Hornets team that wrote their own destiny are there.
"Julia the other day she kept the kick off and did the tackle. Like, it was crazy. It was amazing," McBride remarked.
"Just because I'm a girl doesn't mean I can't go and tackle someone. I'll hit someone any day of the week," Leary added. "Regardless of their gender, [anyone] should be able to go down to the football field, show up on mats and hit someone. "
The shoulders of this duo are raised after each block of pancakes, big hits or sometimes simply in the direction of the main room.
"The kind of feeling you get not only when you like things on the pitch, but also what's new at school, when people say hello to you in the halls and know that you are part of their team, that you have the back, and whatever, and when you're on the field, when you're at school, "Leary noted." It's a really good feeling. "
It's also the feeling of leveling the playing field for so many high school athletes and maybe one day the pros.
"It's a tough sport, I'm not going to lie," McBride said. "There are times when I have a hard time, but like, being out there and working hard is the most important thing. And I hope to see, like, tons of women out there giving it their all. 'they have and just showing off, showing who they are as a person and what they can be. "
Sometimes role models like these are just doing their job, not realizing the impact they are having and will have.
"It's something I've always wanted to try, but I never thought I was achievable until I met Mara and realized there are girls on the team. They can do it, we can do it, "Leary added.
"I made a difference in someone else, and convincing someone else to play is amazing," McBride replied. "I think being a woman just puts you one more thing to do. And I think we've both overcome a lot of obstacles in that direction."