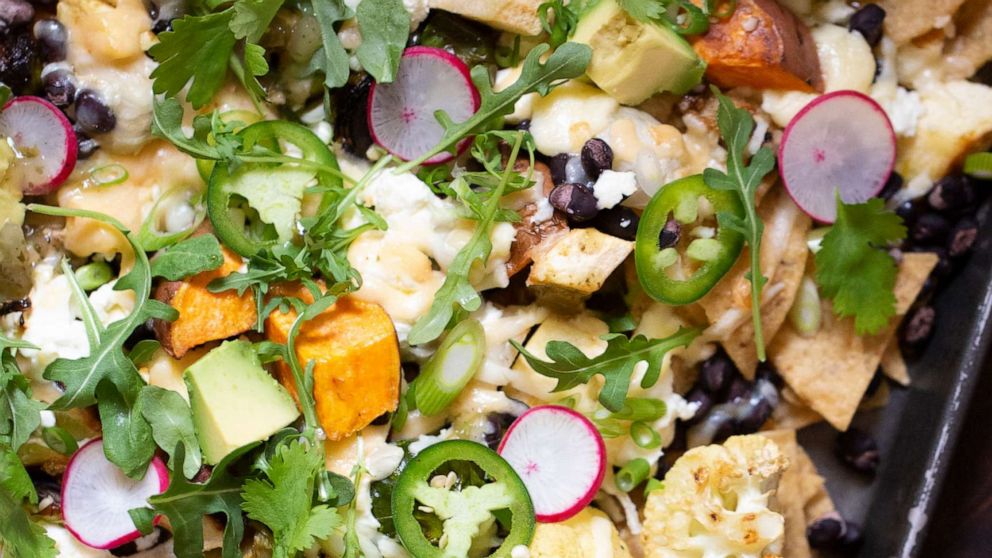 Nachos on a tray for the day of the football game filled with vegetables for a healthy touch
Ashton Keefe shares his simple recipe loaded on a single sheet tray.
As Americans prepare for the NFL playoffs and the superbowl, it's time to rethink game day snacks.
What's easier than a plate of nachos? Keefe loaded hers with delicious and nutritious ingredients, piled high with veggies and gooey, gooey cheese.
Vegetable Nachos Sheet
For 6 persons
Keefe said she loves nachos for several reasons.
"They're really delicious, they're fun, and you can use whatever you have on hand," she said. "Most people don't think veggies and nachos are in the same sentence, but nachos can actually be healthy and delicious. Feel free to 'use what you have' or substitute favorites from your crew."
Ingredients
16 ounces of tortilla chips, merchant's choice
6 cups roasted vegetables, such as Brussels sprouts, butternut squash, carrots, potatoes, parsnips, etc.
1 cup black beans, drained and rinsed
8 ounces of goat cheese
8 ounces sharp white cheddar cheese
2-3 green onions, thinly sliced
2 avocados, diced
2 jalapenos, thinly sliced
1 bunch cilantro, coarsely chopped
2 limes, squeezed 1/2 cup – 1 cup salsa
directions
Preheat the oven to 375 degrees.
Place the fries on a large baking sheet and evenly distribute the vegetables, beans, goat cheese and cheddar cheese. Bake for 10-15 minutes (the same time it takes your lettuce wraps to cook!) until the cheese is melted and the fries are slightly crispy.
Remove the nachos from the oven and add the green onions, avocado, jalapeno and cilantro. Squeeze everything with lime juice and sprinkle with salsa to taste.