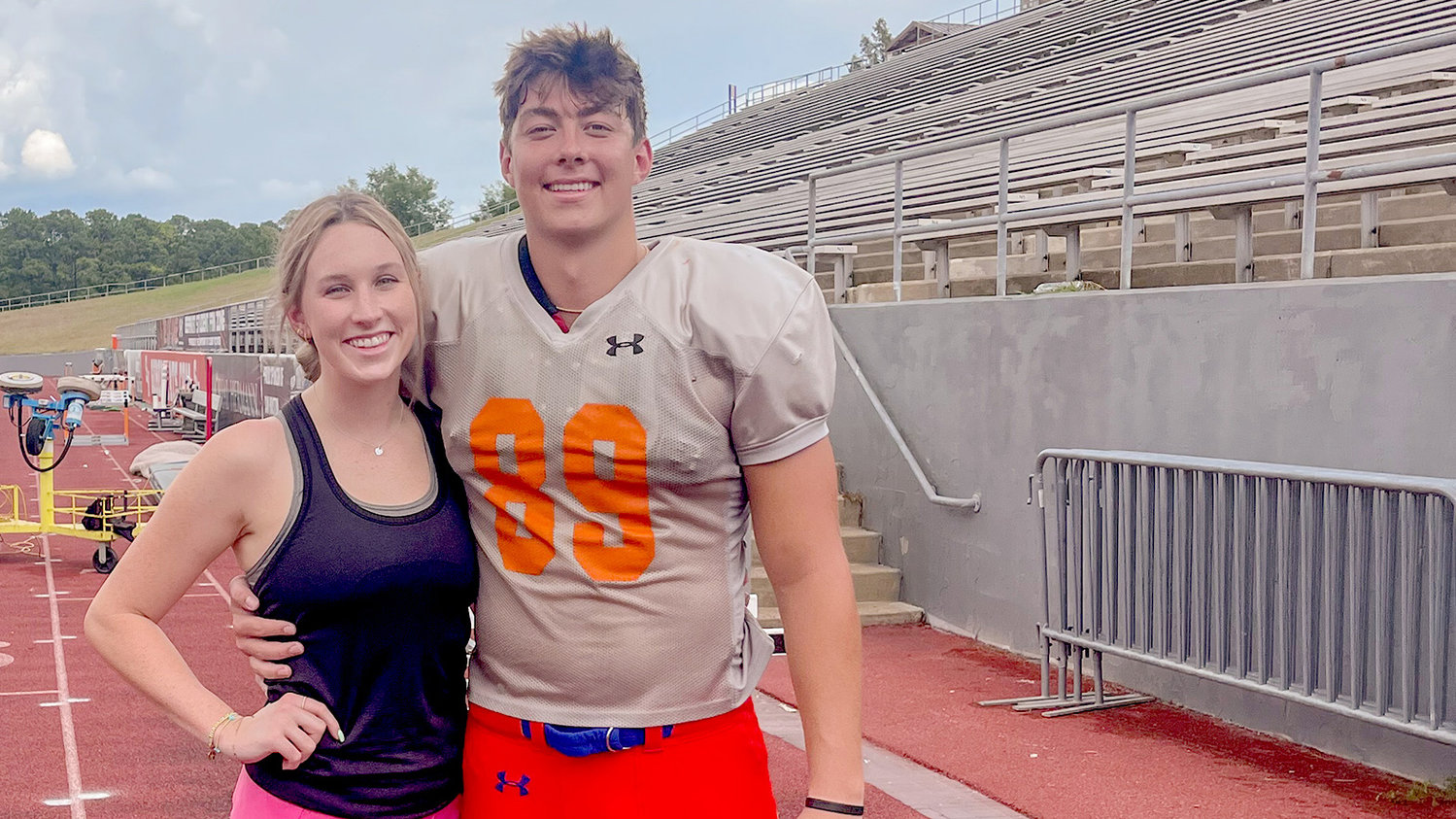 Sohn goes from the swimming pool to the football field
The college journey of former Aledo Bearcat swimmer Elijah Sohn continues. This time, however, he switches sports and he becomes a Bearkat again – albeit now with a "K".
Much like Aledo, Sam Houston State has orange in its color scheme.
Sohn, a two-time state swimming champion at Aledo, has officially transferred from the Southern Methodist University swimming program to the Sam Houston State University football team.
"I decided to switch to football not in my own strength, but through prayer and wise counsel. It was a decision that took a lot of faith to come out without seeing a lot of results," Sohn said. The process started when I was swimming at SMU and new head coach Rhett Lashlee came into the weight room, introduced himself and asked what position I was playing. At the time, I was sitting at 220 pounds, the heaviest elite level swimmer in the world.
Ultimately, Sohn said the reason for her change was religious.
"God blessed my family with physical talent and size. I knew I wanted to use it to glorify my King and Saviour. However, swimming had become something in my life that no longer glorified the one who gave me my talent because it had become a 'Look at me and what I can do,'" he said. "I never want my life to point to me, but rather to Jesus, because he has changed and saved my life forever. It was time to step away from swimming, but I still had that athletic talent that I knew God wanted to use, on and off the court.
Sohn hasn't played football since his freshman year at Aledo, when he was much shorter than his current height of 6-5 and weighed less than half of the 245 pounds he currently weighs.
"It was an adjustment for sure because the last time I played football I was 5-6, 110 pounds. However, as a testimony of God who placed me here for glory, I adapted very quickly," Sohn said. "My body feels great and it was so much fun to learn and improve every day. Every practice I thank God for the opportunity he gave me.
Sohn, a tight end, will wear number 89. It was his younger brother Isaac's number throughout Aledo junior football.
Sohn said he received advice and support from legendary Aledo Bearcats football coach Tim Buchanan regarding his decision.
"Coach Buc always said that I should have played football. When I first started talking to him about it, he told me that I could have a future in this sport and earn a lot of money by doing so," Sohn recalled. "I'm not concerned with the money involved because I live my life 'seeking first His Kingdom and His righteousness and everything else will be added to you.' But I'm very grateful for his support and connection to the world of college football, and he never doubted that I could not only play college football, but be successful at it.
Buchanan said of Sohn, "He's a terrific athlete. When he arrived about a year ago and trained, he took his shirt off. I said, 'Put on your shirt, you're embarrassing me.'
"For someone who hasn't played since ninth grade, it's unbelievable. He's a special athlete – and a good boy.
A 2020 Aledo graduate, Sohn found success as a college swimmer. His career began at Texas A&M, where he earned honorable mention rookie All-American status as the presenter of the Aggies' 400 freestyle relay at the 2021 NCAA Championships.
He transferred to SMU, but saw limited action for the Mustangs due to injury, only appearing in the season-opening SMU Classic. He was named to the American Athletic Conference varsity team last season.
Sohn brought in former Green Bay Packers tight end Jermichael Finley for practice and began attending college football camps before signing Sam Houston.
"I didn't do it alone. The very first day I decided I was going to embark on this journey, I met Jermichael Finley inside Aledo (installation). Looking back, it was definitely a God-given relationship," Sohn said. "He immediately saw my potential and started training me. He pushed and encouraged me every day. What started as a relationship built around physical training quickly turned into a relationship centered on gratitude to Jesus.
Ironically, Sohn's first game with Sam Houston State will be Saturday, September 3 at Kyle Field against Texas A&M.
"I'm very excited to be going back to A&M and playing on Kyle Field. It's a huge stadium and a really big opportunity to point the finger at Jesus," Sohn said. "My girlfriend always goes to A&M and is thrilled to see me on the pitch, as well as my family.
"It's my dad's birthday on the day of the match and he'll be able to see me play in front of 110,000 people. God's hand of favor has certainly been upon me during my stay here. I started fall camp at the very bottom of the depth chart. For the first game against A&M, I start on the return of the kickoff as well as on the field goal and the PAT (point after touchdown). I will also likely get some reps at the tight end.
"I've been playing football for about a month now and I'm very happy to be playing my first game on one of the biggest grounds. It really shows how great God is. On his own, none of this would have been possible. "
Competing for coach Tiffany Williams at Aledo High School, Sohn earned four letters and was a Class 5A state champion in the 200-yard freestyle. His time of 1:37.02 in 2020 is a state record.
He set eight school records as a Bearcat in the 500 free, 200 free, 100 free, 50 free, 100 flyweight, 100 backstroke, 100 chest, and 200 individual medley.
Sohn was also named the 2019-20 Texas Christian Athlete of the Year.